Allegiant Bulk Solutions is a logistics firm located in Yorkton, SK.
We specialize in hauling dry bulk commodities, organics, rail transloading, and fertilizer warehousing. Our customer base is spread throughout Western Canada. We will haul nationwide if required.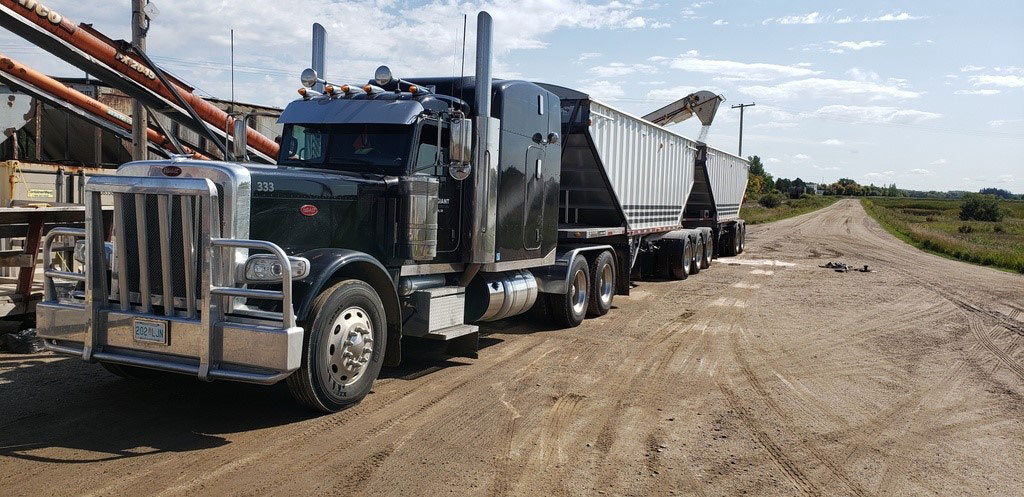 Hopper Bottom Trailers
Allegiant Bulk Solutions has a large fleet of hopper bottom trailers. These trailers feature one or two hopper-style openings on the floor of the trailer. This makes the trailer easy to unload. It can be emptied onto the ground or from above a storage unit. They can also be unloaded into augers. These trailers are ideally suited for transporting many things. Conventional and organic grain and seed. Keeping with the farming theme, they are designed to transport fertilizer and soil. Construction uses include hauling gravel, pebbles, rocks, road salt, sand, and cement. In the mining industry, we haul potash and other minerals. Hopper bottom trailers are a versatile tool in the transportation industry. We have a fleet of these trailers and can also haul trailers that you own.
Flat Decks
Flat deck trailers are used to haul things that won't fit into a traditional closed semi-trailer. Large equipment and farm machinery require a flat deck trailer. Flat decks can accommodate loads with various widths and heights. Dimensions that rule out the use of traditional semi-trailers. Our professional drivers are responsible. They load, unload and, safely transport the cargo. The drivers will make sure that the load does not exceed any restrictions. For height, width, or weight on the selected route. Step-deck trailers are used for taller loads. This allows for more clearance for the top of the load. Need to transport a combine or mining equipment?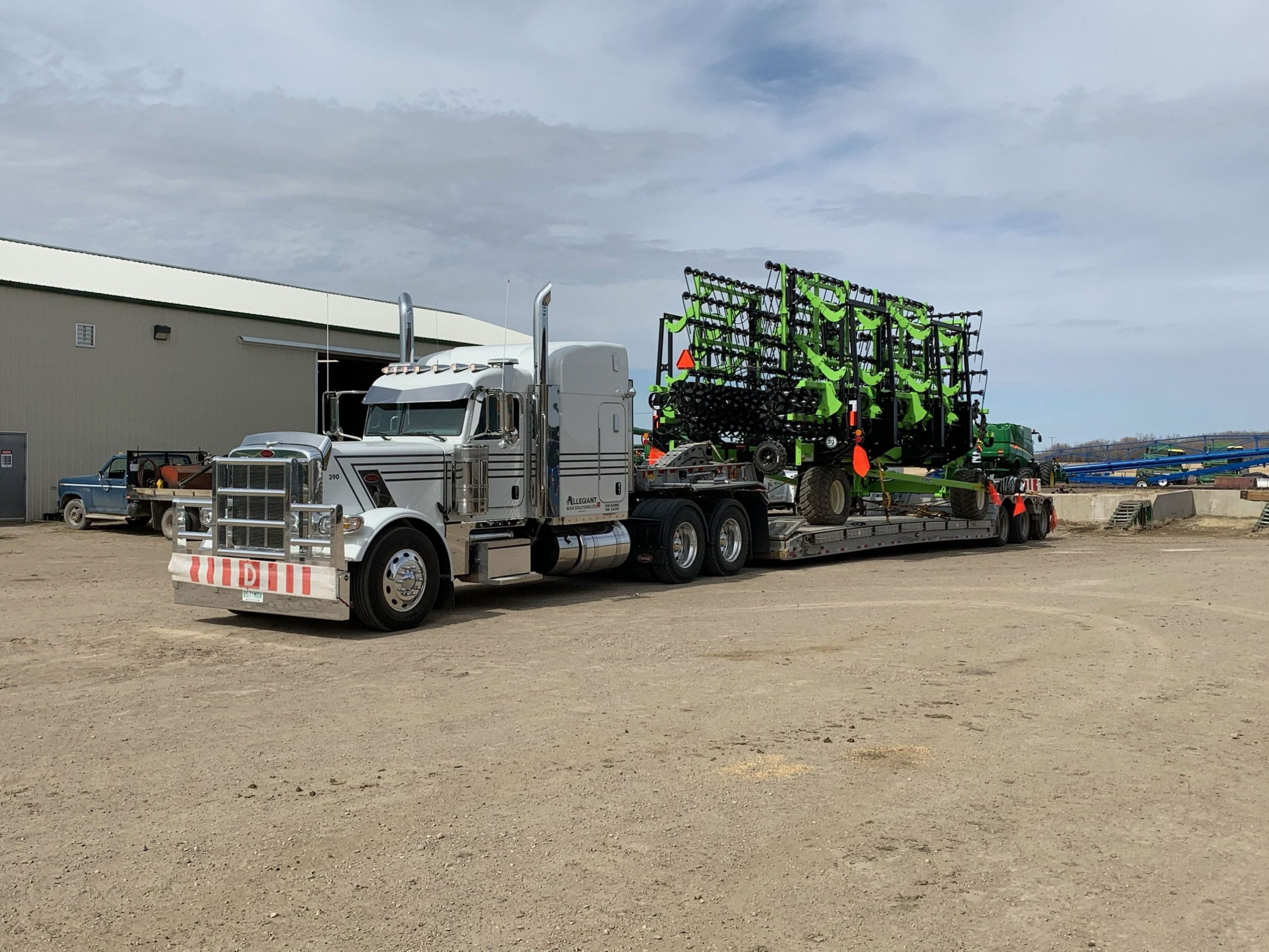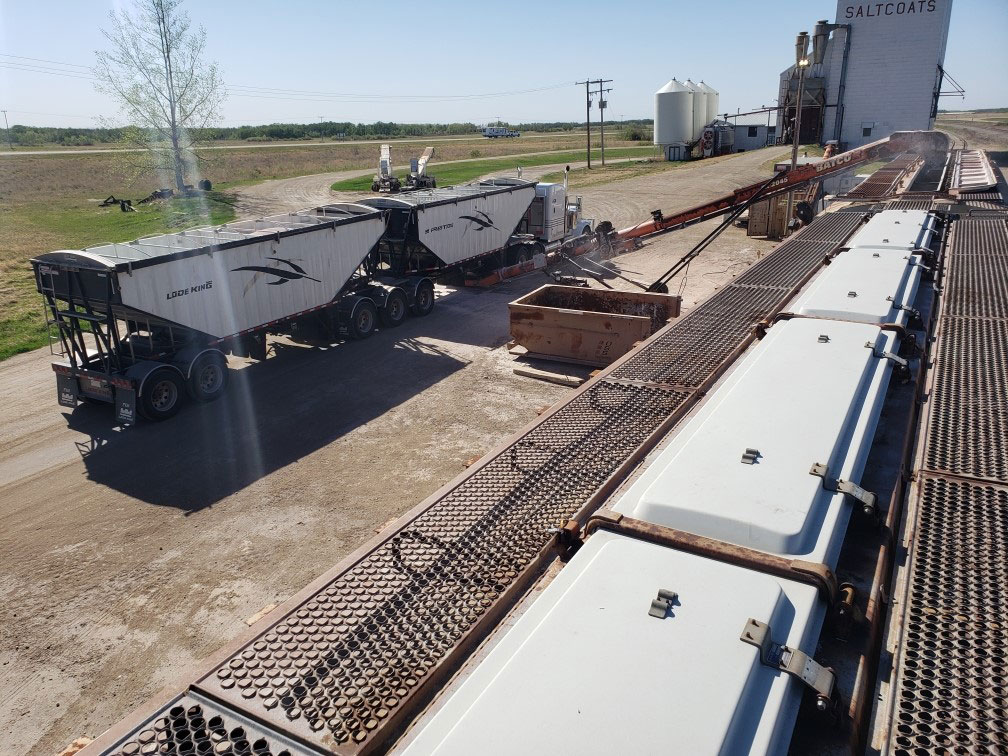 Railcar / Transload Service
Loading and unloading of railcars at our site. We then transport the goods to warehouses or our customers' sites. We provide rail to truck or truck to rail service. Rail transportation has some advantages over truck transportation. Rail consumes up to nine times less energy than comparable truck transportation. Rail can carry more cargo at the same time. Rail transportation can be less expensive for long-distance hauling. It also emits about seventy-five percent fewer greenhouse gas emissions compared to trucking.
Rail is limited to available tracks. Canada has about 45,000 km of track. Canada has around 1.13 million km of public roadway. With about 60% unpaved and 40% paved. So rail can be efficient but truck transport has a far greater reach. Allegiant Bulk Solutions can utilize both when available. If rail is not an option, we can look after all the trucking needs.
WAREHOUSE SERVICE & DISTRIBUTION
We have a large indoor storage facility. We can store bulk products like fertilizer that can be transported elsewhere or be picked up at our site. Some bulk products like gravel and rocks are not affected by the weather. Others like fertilizer need to be protected from the elements. Our indoor storage facility has lots of room for your goods. We can provide short-term or long-term storage. You can pick your products up from our warehouse. We can also provide delivery service to the desired destination.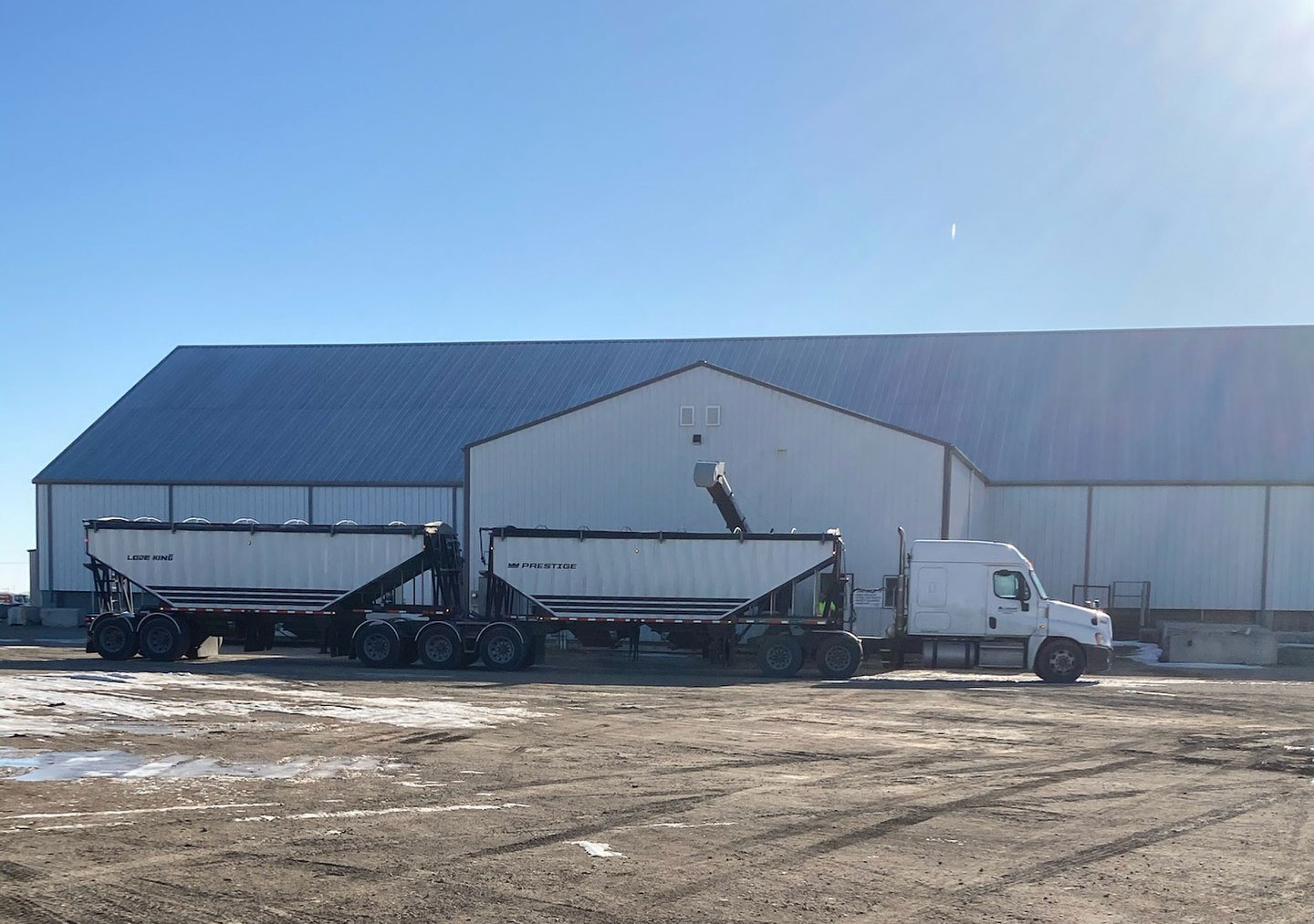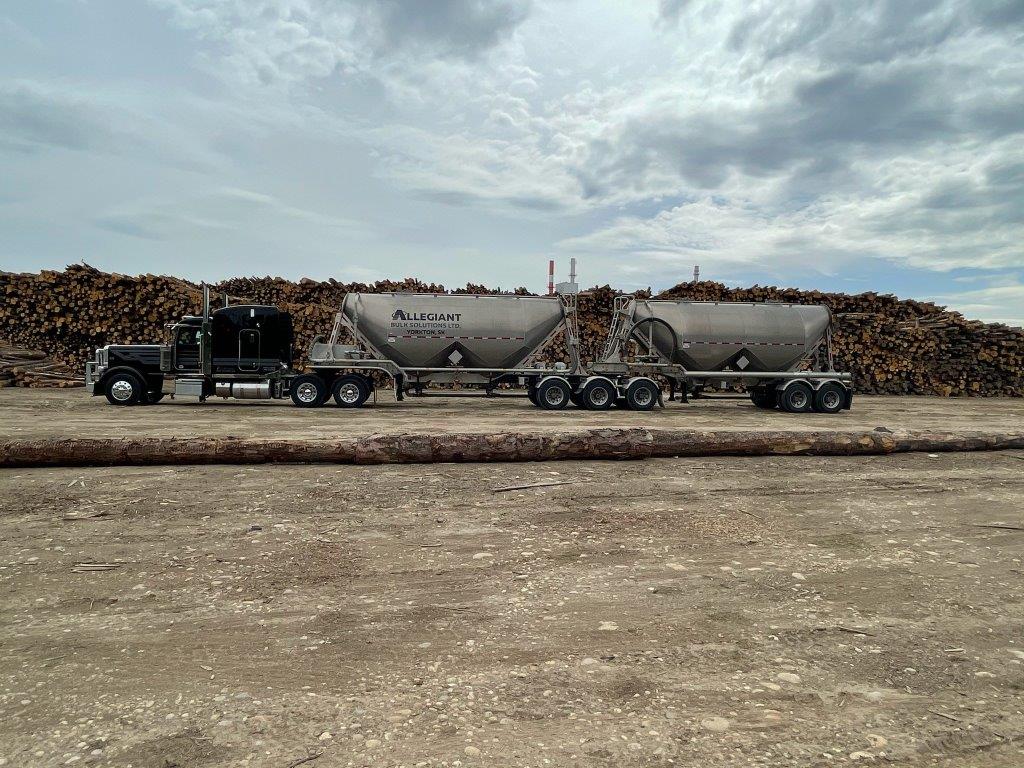 PNEUMATIC TANK TRAILERS
Used for hauling products like Road Salt and Cement. These trailers are completely air and water-tight. They are designed with a pneumatic system. It allows them to be unloaded quickly and efficiently. The trailer construction protects the load from external contamination. We know all there is to know about pneumatic tank trailers. We have the right one for your requirements. Call Allegiant Bulk Solutions today. We will have your load on the road in no time.
SIDE DUMP GRAVEL TRAILERS
Ideal for use in mining and construction projects. Side dump trailers have an excellent payload, fast unloading, and superior stability. They have fewer tip-over issues than end dump trailers. This makes the trailers safer to use on the job site. Safety is always a priority. The moisture-tight tub construction keeps fluids from leaking out the back. This assures that the entire load gets where it is going. Allegiant Bulk Solutions has side dump gravel trailers waiting for your call.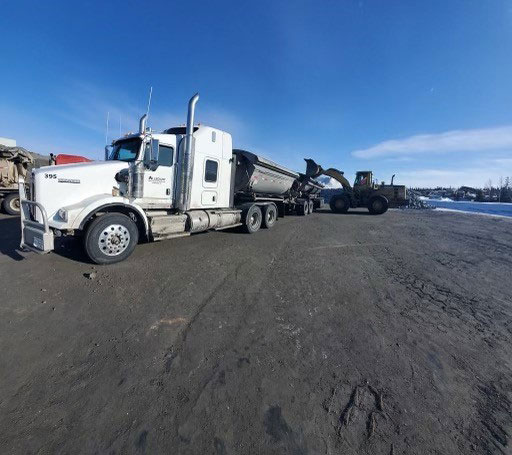 Call Allegiant Bulk Solutions Commitment today and get a quote for your hauling needs.
We can pick up and deliver to anywhere in Western Canada.